Into Tomorrow with Dave Graveline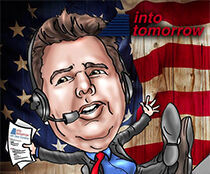 Dave Graveline and the Into Tomorrow team are deeply passionate about consumer tech. For 20 years now, we've been discovering, testing, playing, and living with the technology available today and ... "Into Tomorrow". intotomorrow.com
Show Links:
---
Award-winning broadcaster Dave Graveline is the host of the technology show, "Into Tomorrow with Dave Graveline." Dave initiated the concept of a high tech talk show at 610 WIOD-AM in Miami, where he created and hosted the popular show then titled (by a Program Director that apparently liked excluding women) "Toys for Boys". On January 6, 1996, Dave left WIOD and the program entered syndication under a new name (fortunately), and the "Into Tomorrow" Radio Network launched via satellite.
Since 1970, Dave has worked for most of the English language radio and television stations in South Florida. His many pursuits include several years as news anchor and talk show host at WIOD-AM, WKAT-AM, image voice and talk show host for WINZ-AM, DJ at Majic 102.7FM, staff announcer for WTVJ Channel 4 (now NBC 6), news signature voice for WCIX-CBS (now WFOR), producer and host of several nationally broadcast television specials such as: Florida Outdoors series for PBS, The Grand Prix of Miami for ESPN, Thoroughbred Racing Reviews for SportsChannel, the Miss Florida USA Pageants, Spring Break Reunion in nationwide syndication, as well as many national and local television commercials, training videos, documentaries, voice-overs, and on-camera productions.
Dave also spent several years as a Police Officer with the Miami-Dade Police Department, with much of that time spent in Media Relations as Official Police Spokesman for Dade County. Dave is also an FBI certified Instructor.
Dave was chosen as the voice of the Emergency Broadcasting System (now EAS) during two major natural events in South Florida. As a native Miami resident, he spent 26 hours straight-through on the air, informing, assisting, and calming South Floridians during the incredible devastation of Hurricane Andrew.