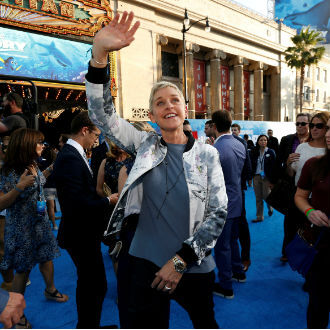 After the dour disappointment that was Alice through the Looking Glass, it's exciting to see great family entertainment back on the big screen. Finding Dory, the long-awaited sequel to Finding Nemo (2003), is a beautifully-captured production and it's the perfect film to see with your whole family.
When Finding Nemo arrived in theaters over a dozen years ago, it defied expectations. The comedy told the story of an over-cautious clownfish who was trying to locate his missing son. When the film ended, the main character Marlin (voiced by Albert Brooks) reunited with his lost son (Alexander Gould) with the help of a forgetful blue tang fish named Dory (Ellen DeGeneres). The feature was remarkable for a variety of reasons but DeGeneres' character truly stood out as a superb supporting character.
In the sequel Finding Dory, her character takes center stage.
The new film opens with a scene from Dory's youth and shows her separation from her loving parents (voiced by Diane Keaton and Eugene Levy). After the heartbreaking separation, Dory became a lost and confused fish until she befriended Marlin. Flashing forward to a year after the events from Nemo, this story shows how Dory slowly begins to remember how she once had a family of her own.
After pleading with Marlin and Nemo for help in finding them, Dory recruits them to join her search but eventually becomes lost herself.
The script, which is credited to screenwriter Andrew Stanton, Victoria Strouse, and Bob Peterson, starts out slowly. In the feature's opening minutes, there are quite a few jokes about Dory's short-term memory loss. It's in these minutes when you wonder how a full-length film will be able to expand upon that set-up and build something truly remarkable around it.
But in the capable hands of Pixar, this feature is able to do that and much more.
When Dory's search leads her to California and she's separated from Marlin and Nemo, her personal adventure begins as she's left stranded and oftentimes confused about her predicament. She may not remember much about her parents but she remembers the most important thing. "All I know is that I really miss them," she says, a powerful sentiment that keeps her going even when she's overwhelmed by her surroundings.
When she arrives at an animal rehab facility named Marine Life Institute, Dory meets an eclectic cast of characters who help her. Ed O'Neill (who plays the often grouchy Modern Family patriarch) appropriately voices a crabby octopus here. Ty Burrell and Kaitlin Olson also join the fun as they voice the odd couple of a Beluga whale and a whale shark, who are constantly arguing with one another. These characters have their odd personality traits and each of them — especially the hilarious Burrell, whose character is a neurotic goofball — provide a few great laughs here.
One of the best characters though is Becky, a quirky but silent bird that helps Marlin out of a few binds. Even without a voice, the geniuses at Pixar have created an unforgettable character here who earns laughs whenever she's onscreen.
Like with other Pixar movies, there's an underlying sweetness at the core of this picture. The eccentric characters and the humorous dialogue keeps the story going but this is a heartfelt story that directors Andrew Stanton and Angus MacLane have beautifully captured here.
At the end of the adventure, there are several beautiful and poignant moments (including a powerfully-emotional moment surrounding seashells and a heartwarming conversation between Marlin and Dory) that really bring this story together.
For more family entertainment, click here for a list of five family-friendly shows you should be watching.